Desmond O'Connor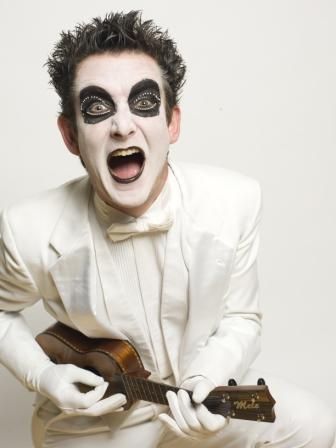 Demonising, hypnotising, mesmerising; Desmond O'Connor is an internationally renowned and award winning composer, lyricist and performer with over twenty years' experience in cabaret, comedy and musical theatre. His bittersweet lyrics and insanely catchy melodies never fail to shock, charm and entertain.
From Scott Mills - The Musical for BBC Radio1 to the award winning and hard hitting Failed States (Edinburgh Fringe, St James' Theatre & Latitude festival), Desmond's skills as a composer and lyricist never fail to shine and delight. ?
Desmond continues to produce countless knock out shows, from the fun and frivolous to the dark and disturbing. In 2011 and 2012 he also re-united with Scott Mills and the BBC Radio 1 team for their FUN & FILTH cabaret show as well as programming cabaret content for the BBC Culture Show.

As a compère and host extraordinaire, Desmond holds his audience in the palm of his hand and knows exactly how to tease, titilate, soothe and shock them into having a night to remember. From glittering parties to charity auctions, risqué cabaret to festival comedy.
Desmond O'Connor will be appearing in his musical ROYAL VAUXHALL as part of the HBBF Fringe on Sunday 6th May.