Et Moi
*WORLD PREMIER*
The second Saturday offering is the much-anticipated ET MOI - created and performed by two of the most celebrated clowns on the UK - Kiki Lovechild and Pi the Mime.
Have you ever dreamt of running away with the circus? The lights. The crowds.The excitement. But imagine if the circus had run away from you. Meet Kiki Lovechild, now the loneliest clown on the planet. No home. No family. Nothing to belong to...
Enter Pi. Witness the joy of two clowns rediscovering their place in a world turned upside down.
Created and performed by two of the most celebrated clowns on the UK variety circuit, this show combines circus, music, magic, mime and more. Amidst the turmoil of life, these two clowns discover the secret to true happiness. Come along and you will too.
SUITABLE FOR ALL AGES
Saturday 29th April
2:30 - 3:30pm at Hebden Bridge Little Theatre
Tickets £12.50
Click
HERE
to book tickets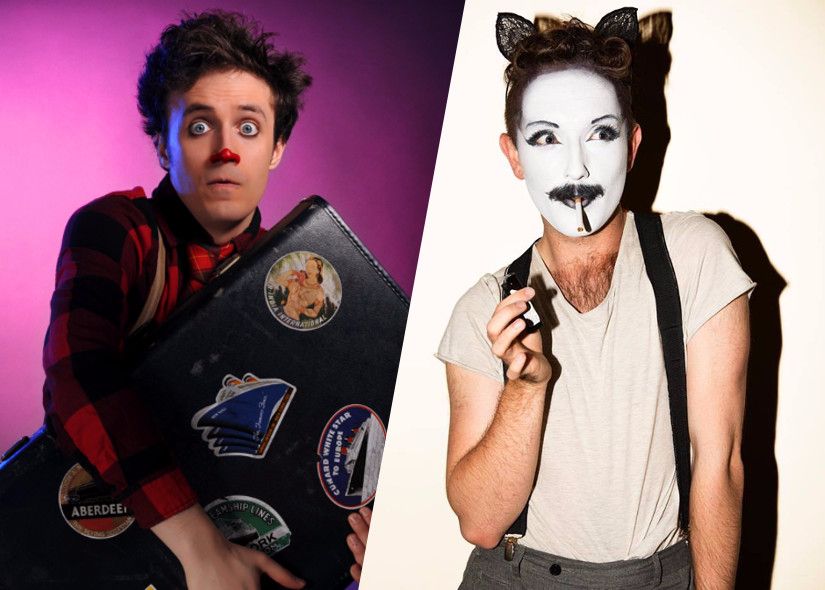 Feedback for previous shows:
"Kiki fills us all with wonder, laughter and love. His performance is always touching, always funny and somehow more beautiful than a sunrise, a sunset or an enchanted forest. His is a unique work of art." - Fringe Review
"Pi has such a remarkable charm that one becomes completely taken by his delicate performance. Each step, look, and pause tells a thousand words." The New Current
Kiki Lovechild is a professional idiot. He is one of the leading cabaret clowns on the UK circuit, touring with variety shows as well as performing in theatrical projects. With training in mime, clowning, magic, music, escapology and more, he is one of the more varied performers on the scene. In the past few years he has been busy performing a number of successful clown shows, including his solo shows "The Weatherman" and "Sheets", and a family show "The Man Who Knows Everything".Away from the stage, Kiki works at a clown school based in London, helping to teach and inspire a wide variety of new and existing comedy performers. He has recently returned from Cambodia where he was working with deaf and disabled artists from Epic Arts.
Pi The Mime: Gender-bending clown Alexander Luttley brings a quirky flavour to show as Pi the Mime, moving audiences to laugh and cry with his charming antics. His five star solo "Un Cas De Nostalgie" show stole audiences hearts and made him one of the best loved clowns on the cabaret circuit. By cleverly mixing mime, physical theatre, puppetry, dance, burlesque, clown and more, Pi creates some of the most memorable and engaging routines in the UK cabaret and theatre scene.